Annual Honouring Our Veterans  Remembrance Day Service
Sunday, November 6 @ 11:00 a.m. featuring a drama of the true story of a soldier performed by Capt. Rev. Dr. Tom Hamilton.  Dr. Tom has become renowned for his inspiring dramatizations featuring the true stories of soldiers, sailors and airmen who have served.  Don't miss this year's exciting story!  The service also features special music and our Act of Remembrance.
Canada Remembers Chorus
Sunday, November 6 @ 7:00 p.m. join us for a trip down memory lane as we welcome back the Canada Remembers Chorus for an evening of music from the Boer War through to today.  You'll want to join in and sing along as the Chorus presents a parade of hits from over the past century.  No admission fee, but a free will offering will be received.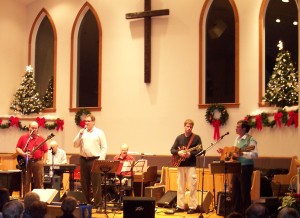 Kendall Docherty and Friends Annual Christmas Concert
Sunday, November 27 @ 7:00 p.m. What better way to start the Christmas season than with Kendall Docherty and Friends!  This has become an annual tradition at St. Mark's as Kendall and the band kick off the Christmas season with all your favorites! Tickets $12.00
Arioso
Sunday, December 11 @ 7:00 p.m.
Beat the stress of the Christmas season by coming to hear the voices of angels!  Arioso, a double trio, have performed Christmas concerts the past three years at St. Mark's and left audiences wanting more!  Blending both sacred and seasonal music, this is a night not to be missed!  Tickets $10.00